News
---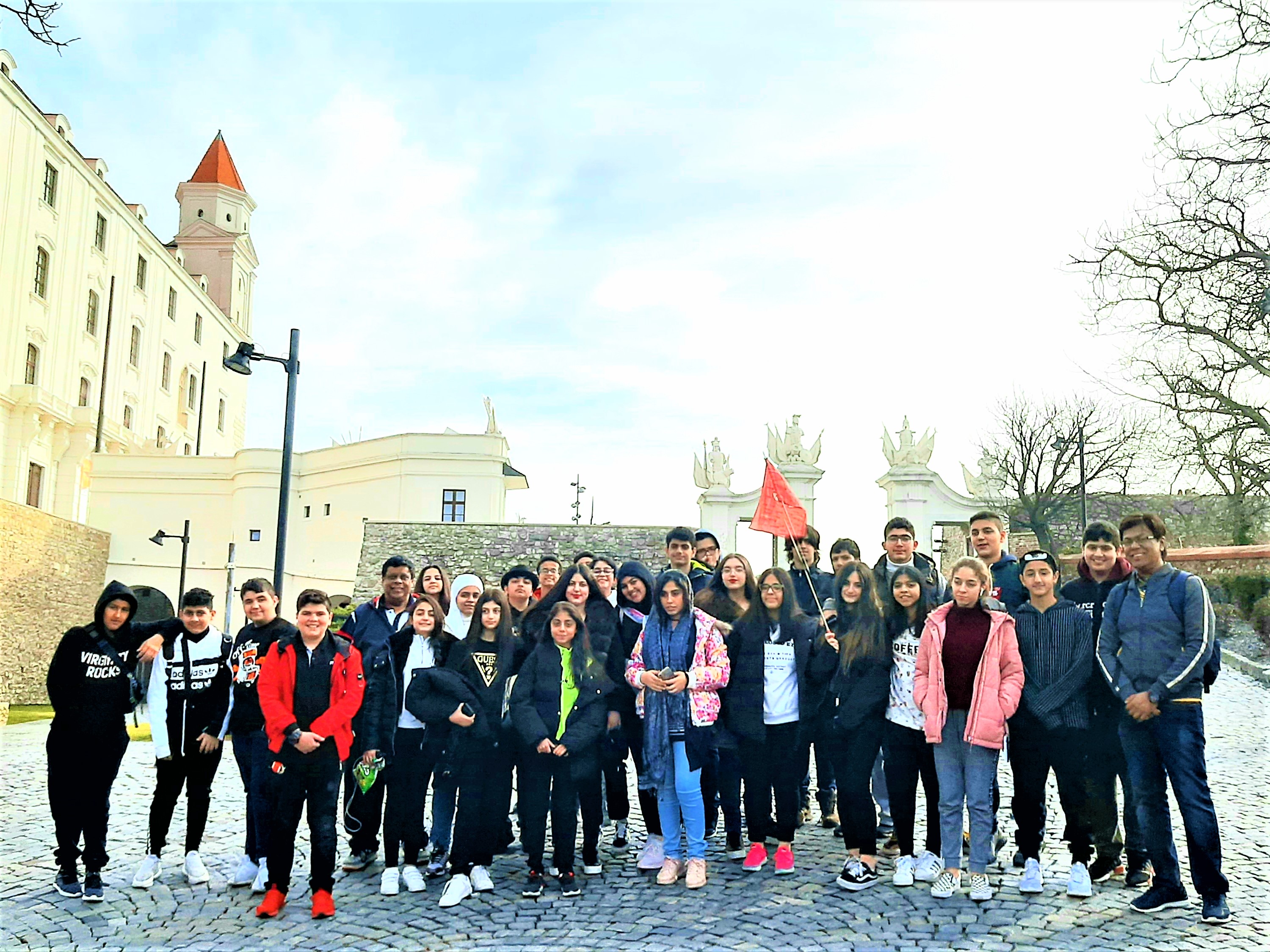 Secondary Student Educational Trip to Europe
25 Feb 2020
Kuwait National English School (Academic Year 2019 – 2020)

Secondary students' overseas trip to Austria, Slovakia and Hungary.

The annual educational overseas trip this academic year was a much anticipated one as it would take students to three diverse nations with diverse languages, customs and history. The trip was carefully planned and after much preparation and waiting a group students accompanied by staff members set out to experience, learn and understand three different countries. The trip would focus on three major cities namely, Vienna (Austria), Bratislava (Slovakia) and the historically important and aesthetically beautiful Budapest (Hungary).

The start of the tour was to the land of Mozart and Beethoven, Vienna and students visited the Schonbrunn Castle, once the seat of the Austria-Hungarian Empire. The palace with its fascinating architecture, grand interiors and majestic furniture still maintains a royal atmosphere. Students spent time having a guided tour of Vienna and its landmark museums and music academies. A trip to Prater Park and some shopping rounded of the 2-day visit to Vienna.

Next stop was Bratislava, the capital of Slovakia, which shares borders with Austria and Hungary. Bratislava, about an hour's drive from Vienna has an old world-charm. Surrounded by many historical monuments and modern cafes and shopping centers, it offers a delightful blend of the old and the new. Students were enchanted by the little outlets for shopping and the rich culture and heritage evident in every nook and corner. Important landmarks that the students visited included Bratislava castle, and the UFO Bridge over the river Danube.

The last 2 days were spent Budapest, the capital of Hungary. Students were put up at the trendy and modern Hotel Mercure. On the first day it was fun all the way as students spent the evening at the huge Aqua World water theme center. They had fun and were reluctant to leave. The next day was a city tour and students got to see major landmarks like parliament house, Heroes' Square, Fishermen's Bastion, The Central Railway Station and The Buda Castle standing tall and majestic. Students had a guided tour of this great castle and got to visit the towering 13th century St. Matthias Church.

The 6 day tour of three countries was a great experience for our students. Our school is proud of the fact that students go well out of their classrooms and in to the bigger, real world and assimilate knowledge and information which ensures growth of both the intellect and personality. Our students greatly enjoyed the trip and have come back with great memories, more knowledge and a better understanding of the world. They now look forward to the next overseas trip.
---