News
---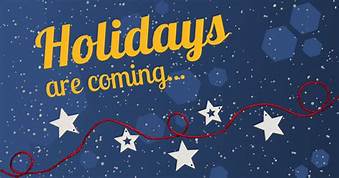 News from the Assistant School Director
12 Dec 2021
Holiday Message and Update to Parents – December 2021:
As we head into the holiday the staff at Kuwait National English School would like to wish you a peaceful festive season and a joyful, Happy New Year. We sincerely thank you for journeying with us. We look forward to your return in the New Year.
KNES will close to students on Thursday December 16, 2021 at 2:30 pm for the start of the holiday and will re-open for all students on Tuesday January 04, 2022 at 7:00 am. When we return back to school on the 4th of January 2022, we will continue to reinforce masking and hand hygiene, as well as physical distancing. Temperature screening for symptoms of illness every day before attending school will still be a requirement. Anyone feeling ill should not attend school.
On behalf of all – thank you for your ongoing efforts which have made the school re-opening process possible, move your child back to face to face learning and for adhering to the ministry's health and safety measures that have ensured schools remain a safe place for our students and staff.
Important dates to remember for the Second Term (January 04 – March 31, 2021):
17th December – 3rd January 2022 Holiday
Tuesday 4th January 2022 Start of Second Term
Thursday 6th January 2022 First Term Reports to Parents
17th – 19th January 2022 Online Parental Meetings
6th – 10th February 2022 IGCSE Year 9 Option Meetings
20th – 24th February 2022 National Day Holiday
February 2022 United Kingdom Mathematics Challenge
February 2022 KNES Switzerland and Dubai Overseas Educational Trips
Thursday 31st March 2022 End of Second Term
Working hours arrangements of the reception/Account department:
May I remind you that during the school holiday, the reception will be staffed each day from 8:30 am until 1:30 pm; except on Saturday December 25, 2021 and Thursday December 30, 2021.
Again, I appreciate your support! Please take care and stay healthy during this holiday season!
Greetings,
Dr. Raouf Khodabocus, BSc, MSc, PhD, FCIC (Canada)

Assistant General Director, Kuwait National English School
---